A New Year begins
2017 was a big year for Michael Cooke Garden Design. We've completed some really rewarding designs and the landscape contractors we work with have been implementing them beautifully. Time flies, and Mark finished up working with me after seven years and Ben swiftly moved in to fill his shoes. After studying and working in London, and more recently Dubai, Ben brings with him new enthusiasm and perspectives with some very clever computer skills, and as a result, Ben, Kaiya and I will begin presenting some our garden designs in new ways in the New Year.
We're very lucky to have the opportunity to work with extraordinary architects, builders, artists and tradesmen in locations  which are sometimes breathtaking whilst others are more homely and we enjoy working on them all. From the country to the coast – local and interstate we get to meet people from all walks of life.  To be able to improve the quality of someone's day by giving them a beautiful garden is what we love doing the most.
I'm so proud of the work the contractors and their teams produce – without them our work is just ink on paper so I've put together a small collection of some of this year's projects with before and after images. Usually I don't show the gardens we design before they have had a few years to grow and look at their best, but I thought it may be interesting to watch their journey.
After a well deserved Christmas break we recommence work Tuesday next week on some really exciting projects to kick off the year.
The first set of images are of one part of a project at Curl Curl by Matthew Woodward Architecture which was constructed by JTCD and Verduous Gardens. I'm besotted by the breeze blocks, off-form concrete and second hand bricks used in this project and the way they enhance the cottage. A mature frangipani was transplanted from one part of the site to another transforming the courtyard.
This next garden at Wamberal is to be a staged project, and as access will be tricky the owners opted to get the back garden built before they began building. The garden will grow alongside a renovation by White Dickson Architects. The garden was constructed by Box Building and Landscaping, levels were tricky and the stone and rendered walls negotiate it well.
On this second Wamberal project we decided that the approach to the front door was all wrong, sometimes we have to look at things with fresh eyes and in new ways, so we demolished part of the existing entry court wall and created a new series of steps and paths to lead visitors to the front door. We saw that the house had a retro vibe and we enhanced this with plants to accentuate the mood. This project was executed by Cornerstone Landscaping – I can't wait for the plants to grow and either can the owners. I'm loving the off-form steps and stone walls which positively glow at night with the garden lighting by Gardens at Night.
The third set of images is a unique home by architect Peter Stutchbury – a home in the country at Paynes Crossing for clients I've known since they shopped in my nursery in Sydney. The rammed earth courtyard which is central to the home was where the owners elected to begin their garden and Stuart from Eyb Gardens began by constructing the exposed aggregate interconnecting path and then laid a combination of second hand common bricks and recycled clay pavers to our design. A labour of love, this will be a landscape that develops over the years.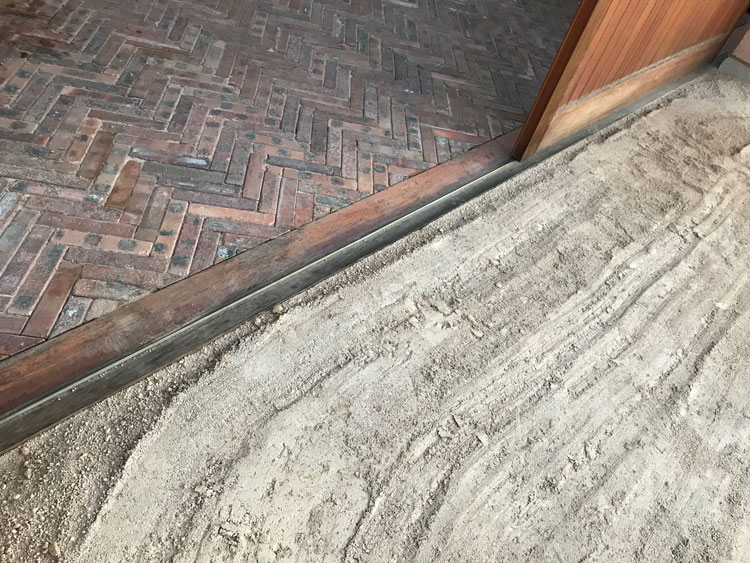 The fifth project is on an acreage at Duffys Forest, the house was reconfigured by Fineline, then it was gutted and refurbished and we moved fence lines, changed the garden, added a custom swimming pool fence and reconfigured entries and access. As with almost all our work, we like to establish long-term relationships with the garden owners and we will soon be embarking on a new design for an existing dam on this property. Steve from Shakkei Landscaping has done all the work on this one…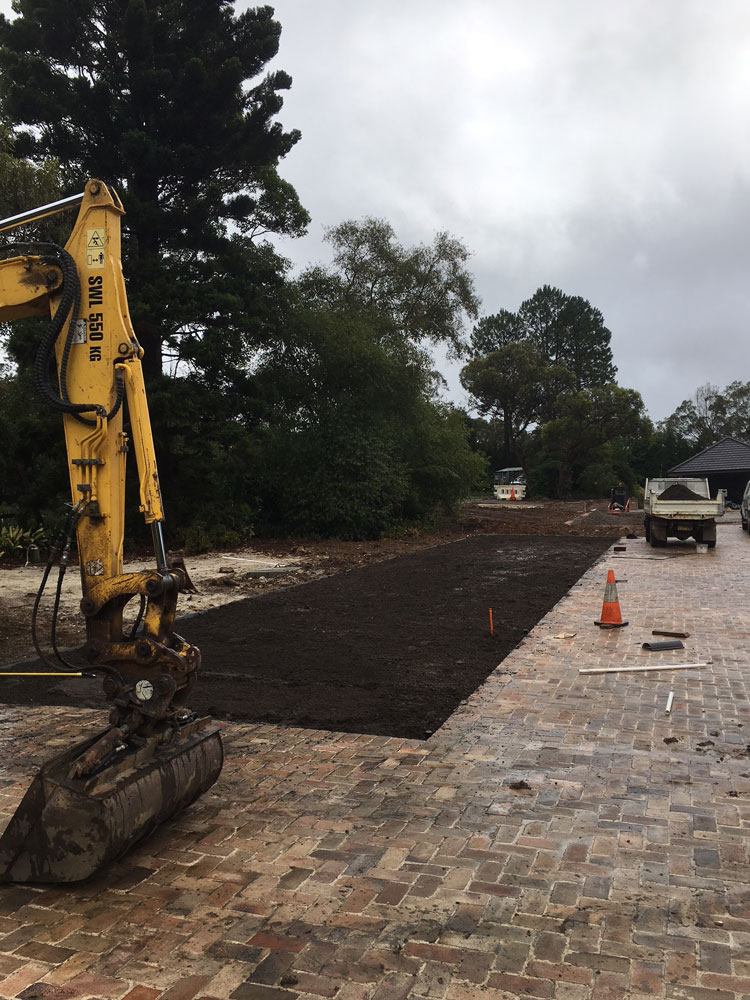 Secondhand brick was used extensively for the new driveway
The 6th and final `before and after garden' in this post is at Pittwater and one where we have re-organised existing plants, made roof gardens, created new areas and added lots of new plants. Mature palms have been an important part of this project where an instant effect was what was required. This landscape was constructed – as was the home itself by JGroup Projects. Koichi Takada Architects
Image – JGroup Projects website