Sculpture
It's so hot today so I'm hanging out in the studio in the air conditioning where making adjustments to posts that I've had in my drafts box for ever
I've been lucky to establish relationships last year with two new  colleagues that enrich my life artistically. I've long been an advocate of sculpture – and even more so if it will enliven my gardens.
The lovely Denese Oates brought to life an idea that I've had ticking away in my head for a few years in a courtyard garden at Mosman. This narrow space is an important area as the living room and kitchen look directly onto the boundary wall and the strip is too desolate to plant successfully. The owner has a wonderful collection of paintings and Denese and Diane were an ideal match. In concept I imagined a vine growing about the wall – and rather than dictate how to, this original concept idea became the departure point from which Denese began and it has been a wonderful ride.
I took a short 10 second video to show you the scale of this work – click the link below to sneak a peek, and imagine how it looks at night when illuminated by the overhead LED lights!
Denese Oates Wall Sculpture from Michael Cooke on Vimeo.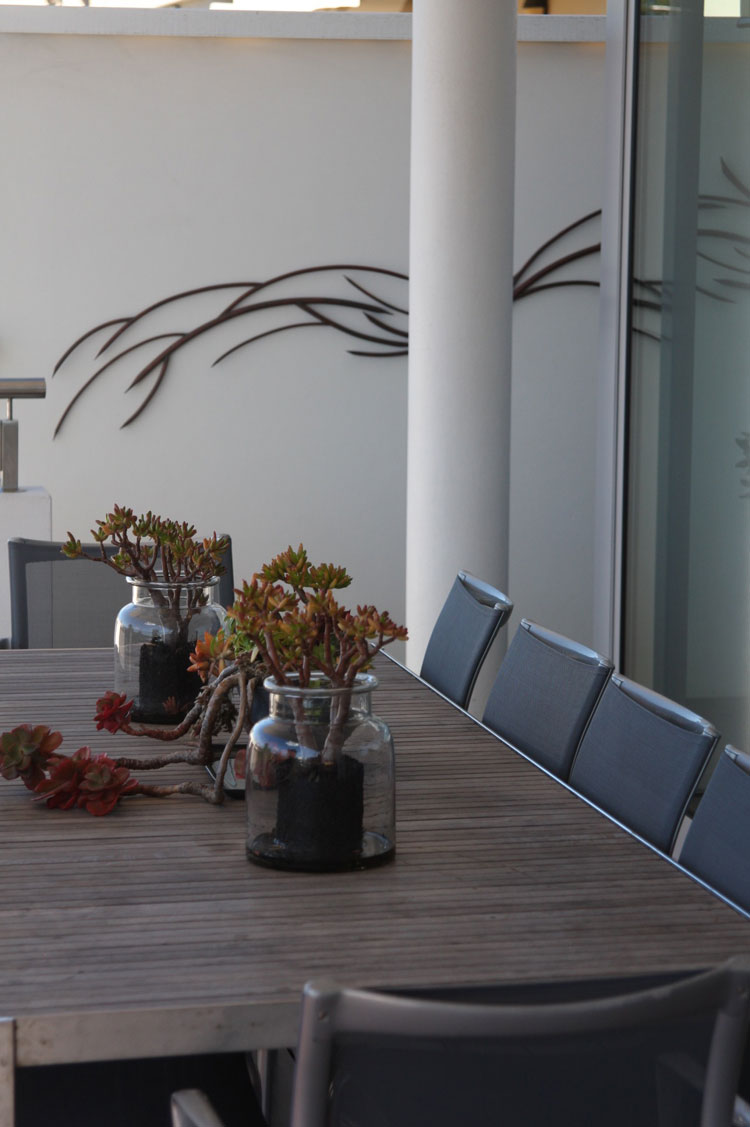 Late last year our friends Gemma and Armando introduced me to Peter Lundberg – an accomplished sculptor that has won Sculpture by the Sea at Bondi – twice. Peter creates monumental public works in concrete and bronze and whilst Peter is overseas for a while I have a collection of his smaller bronze pieces here in my own garden where they can gently weather outside and I can enjoy them whilst I dream of  the gardens to home them permanently. The sculptures come in a range of finishes, the one picture has a golden hue to it which looks great when shown against a backdrop of green foliage